Everything you always wanted to know about chatbots
---
---
Although today's chatbots are already capable of performing a great number of functions and tasks, their success is still highly contingent upon user acceptance and, above all, actual use. And user acceptance depends not least on what the users expect from the bot. Are users seeking a bit of entertainment to pass the time, do they need help making a booking, a reservation, or placing an order, or do they just want to get some information?
No matter what the objective, companies seeking to implement a chatbot will only be able to do that successfully if they give the matter thorough forethought in advance.
How chatbots are structured
In essence, all conversation applications operate in a remarkably similar way. In simple terms, they work like this: The user submits a specific (voice or text) query by entering it on the front end. To begin with, the query undergoes an in-depth semantic analysis and is then prepared in a way that enables further processing.
Practical experience has shown that users place particular importance on being able to understand the solution overall. The chatbot's ability to interpret variations in spelling, capitalization, typing errors, grammar, similar spellings, synonyms, and varying formulations is usually the decisive factor for determining whether the application meets the user's requirements. Often, seemingly minor differences in the wording have a major impact, especially in cases where a user formulates the query in the form of a request or a command rather than a question. Queries such as "I forgot my password," "How do I reset my password," and "I need a new password" each differ in their wording, but the user expects the same answer in each case. The same holds true for cases where a slight variation in the question calls for a completely different answer. "Who is responsible for exterior cleaning?" and "Who is responsible for cleaning?" – these two questions are only slightly different from each other, but their answers can differ dramatically.
Query processors and question answerers make sure that queries are properly understood and receive an appropriate response. Once the query processor has identified the query's individual word types and their meanings, it passes the query on to the question answerer. The question answerer has the task of answering and validating questions, disambiguating entities, and suggesting alternatives. Based on a parsed question, the system generates one or several structured queries and interprets the answers.
And this is exactly where the sticking point lies! In order for a chatbot to be able to respond to a query at all, it needs access to an extensive knowledge base. The more comprehensive the chatbot's knowledge base is, the more effective it is. By the same token, updating and maintaining such a voluminous knowledge base demands an enormous amount of time. In practice, an increasing number of companies are turning to so-called insight engines to make sure they can process the steadily rising levels of structured and unstructured data appropriately and to comply with the access permissions for sensitive data. Insight engines incorporate all integrated corporate data and serve as a central internal knowledge base from which the chatbot can retrieve answers to incoming questions. They do this using a range of speech recognition methods such as natural language processing (NLP), natural language understanding (NLU), as well as artificially intelligent technologies such as machine and deep learning.
Manual adjustments can be made at the administrative level at any time so that the chatbot is precisely tailored to suit the users' specific needs.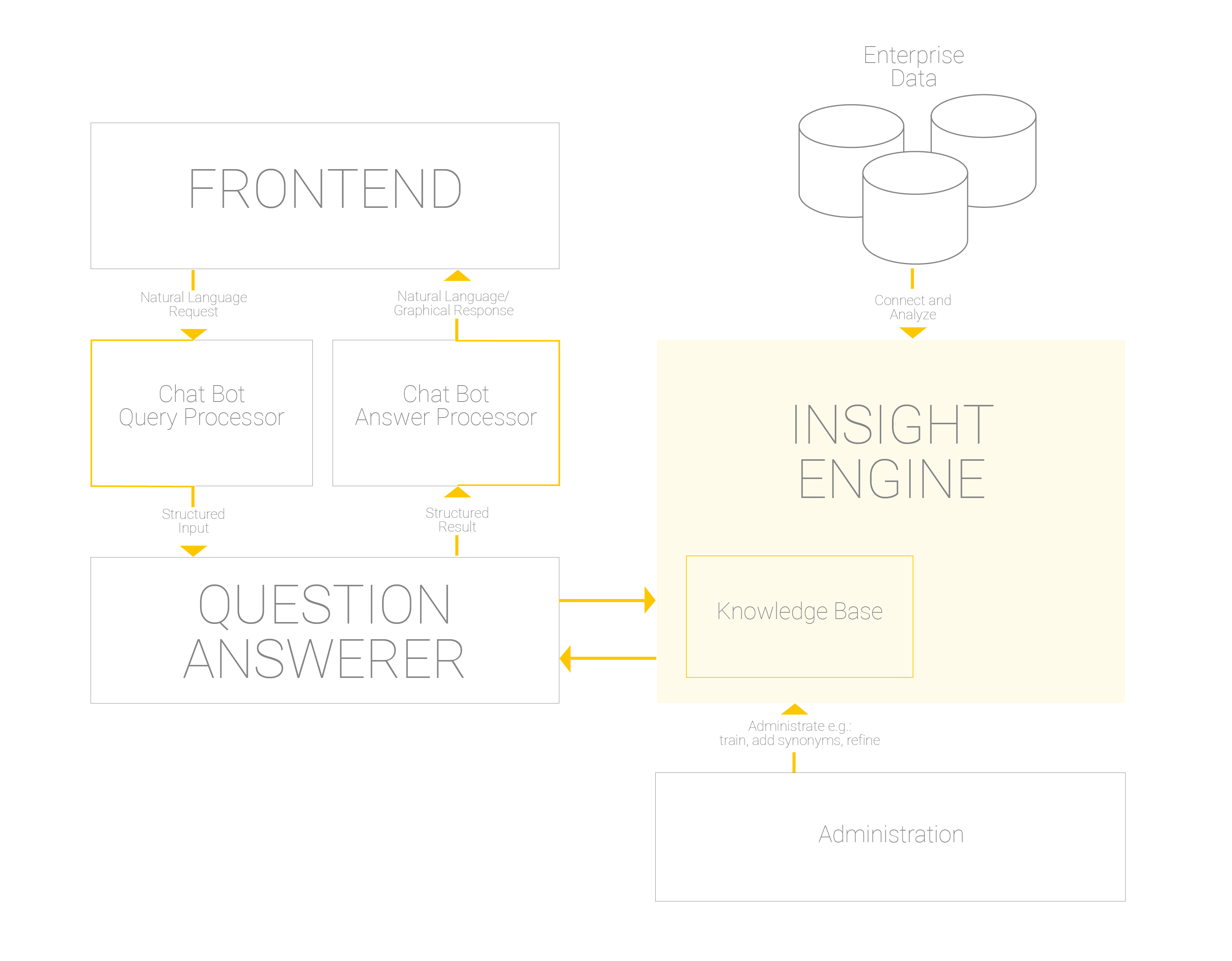 Figure: Simplified architecture of a conversation application using an insight engine
Without a suitably prepared knowledge base, it doesn't matter which conversation app or chatbot solution provider a company decides to go with − the implementation simply won't yield the expected results.
Are you considering a chatbot solution for your business? We're looking forward to hearing from you.
If you'd like to learn more about the diverse sectors in which insight engines are already generating added value, please have a look at our case studies and white papers.