AI + KM = ROI for Your Business
---
---
Businesses are sitting on a wealth of data. But data silos and the lack of data structure act as barriers to using that information to their advantage. As a result, organizations miss out on savings and added value. Organizations can change all that – and take their businesses to the next level – with artificial intelligence (AI) and knowledge management (KM).
This approach delivers quantifiable benefits for a variety of business use cases.
Using the power of AI and KM to enable end customer self-service can add up to big savings. Say a company receives 4,600 support inquiries per month via a self-service portal, of which 2,802 inquiries reach the call center. An insight engine can reduce the number of calls to the call center by around 60% thanks to the proactive provision of knowledge. Assuming hourly earnings of $60 per employee, the business could save around $100,000 dollars per month. (I'll talk more in detail about the benefits of AI and KM in customer service in my next blog.)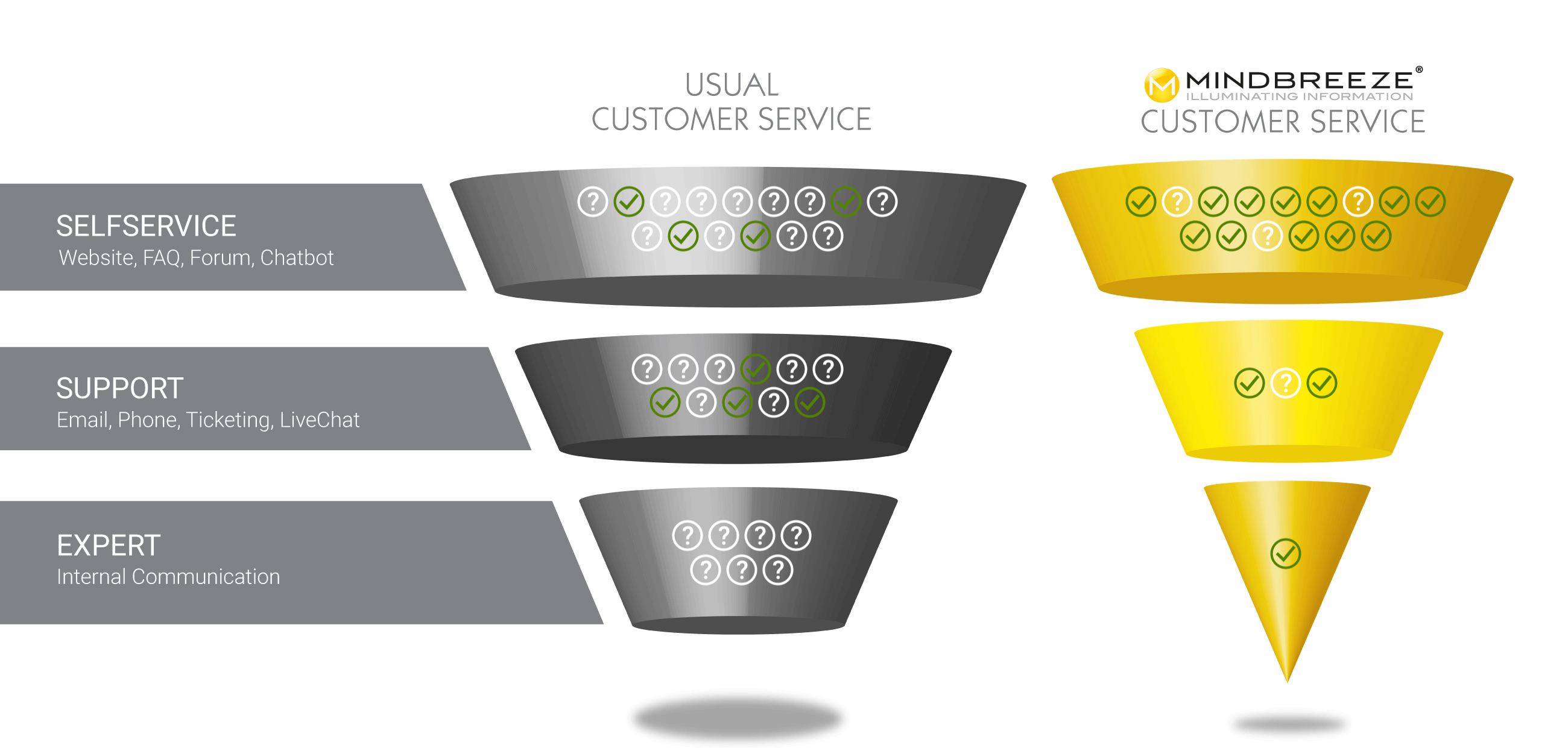 AI and KM also can streamline operations and create operational savings for internal efforts. One of our airline customers used to have to access 17 different data sources to get the needed information to properly maintain an aircraft. Now employees of this company can get all the information they need to do their jobs from a single source, saving time and money.
Self-service information access capability is particularly valuable now as many people work from home. That makes it more challenging for workers to connect with others by the coffee machine, in the office hallway, or the meeting room to get the data required to do their jobs.
Of course, in large organizations people may not even know who to ask for needed information. Mindbreeze can help with that, too. We do that by identifying the skillsets of people within customer organizations. Rather than asking people within the organization about their expertise, we analyze their actions. For example, if someone has written several articles on a particular topic, this might signal their experience and understanding of a certain area or topic.
This approach can create value, and translate into ROI, by enabling organizations to respond more effectively to requests for information (RFIs) or proposals (RFPs), or to be successful with internal projects. Now businesses can use internal resources more effectively, bringing down operational costs and potentially saving a lot of time. Plus, organizations may be able to avoid hiring expensive third-party consultants because they can now find similar skills internally.
We also proactively provide business users with information. One of our largest customers wants to know when it processes a transaction above a certain dollar value – let's say $50,000. Mindbreeze provides that proactive information management. Now a person at this organization doesn't have to go searching for the information. Instead, we provide a notification indicating: "Hey, did you know that there is something going on?"
Many organizations – probably including some of your competitors – already use AI and KM. Solutions that leverage these technologies from companies such as Mindbreeze enable these businesses to outperform their competitors by factors. This is creating huge disruption.
It's akin to the disruption Elon Musk created in the automotive industry simply by changing the way that people buy cars. In the past, people had to go to a car dealership, test drive a car, order the vehicle, and then do it all over again a few years later. Now a person can visit a website to configure and order a Tesla. The coolest thing is that there is likely the same or a similar configuration elsewhere in the region, enabling Tesla to ship the vehicle in just a few days. No other car maker can do that. But it has completely changed the paradigm.
The same is true with AI and KM. Many people think that a file share in Exchange or SharePoint is knowledge management. It's not – that is just storing your data. The value is in data – what we want to communicate and how it meets concrete business needs.
With AI and KM, organizations can create new value for their businesses. It's transformational.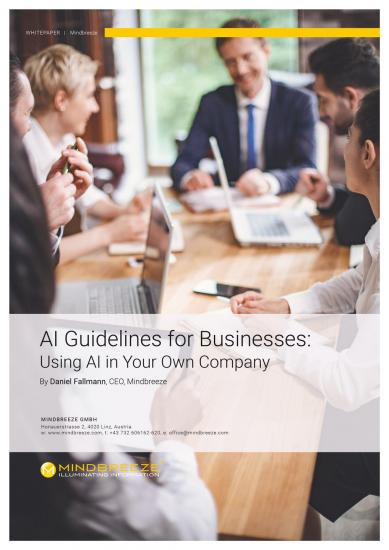 Have you been thinking about how you could use AI in your business? Our AI Guide for Business offers some ideas to get you started:

Download White Paper